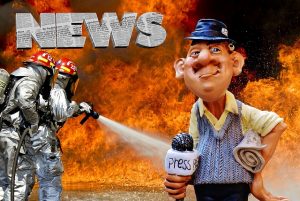 The most important thing to remember about a Press Release is that it is one tool in a successful Public Relations campaign. Some believe the words "Public Relations" and "Press Release" are one and the same in meaning; others realize that a press release is a very useful tool in the overall public relations arsenal.
In my 20+ years of working as an active public relations professional, with experience in a variety of industries, one of the things I enjoy the most is writing a press release. A press release should convey, in a concise manner, a message that is accessible to a wide variety of audiences. The press release in its best form can be read by a reporter or editor who then wants to write or broadcast about the subject to their audience, which then becomes your audience when it is published.
As an example, consider a press release I recently created for a software company. The software package they had created had a very specific purpose, and therefore a "niche" audience. In order to best convey their message, and create a press release that would build awareness of their product, I interviewed the company's principles extensively, and also researched the media that served their intended audience. I then wrote a press release that targeted that audience through very specific media outlets.
Here's a "checklist" that comes from my experiences – again, I've been writing press releases on an almost daily basis since I was a sophomore in college, so I believe I have it down to a science. But I am also actively researching new ideas, and new approaches, as the press release continues to evolve in use and purpose.
Why would the media be interested in this story? If it's not of interest, it probably should be released. There are organizations that send out press releases about everything and the media no longer takes them seriously.
Research your subject – know everything you can learn about the product, the company, the spokesperson (or the person you may be quoting in the press release).
Research your audience – know which media outlets would be best for you to "pitch" to most effectively. Don't write a press release about a sports event and send it to a Business writer!
Write, edit, revise – Put the ideas on paper (or on screen). Write a draft that expresses what you have learned about your subject; don't worry about spelling or grammar at first. Be certain you have the message correct – don't be afraid to ask your client or your subject follow-up questions. Edit for spelling and grammar, and share with your client or subject for additional input. Revise your draft accordingly, use your computer's spell check program (it is your friend), keep a dictionary and a thesaurus near you at your desk, and be certain you understand fully what you are writing about – you may get a call from a reporter with a question based on what you wrote, and you don't want to get caught unprepared.
In this phase of the writing, double-space your copy. It gives you greater room for editing (and writing in the margins).
Err on the side of being brief rather than verbose. The media are usually very busy, and they have a short attention span. Write a good headline, and a great first paragraph (or lead).
Your headline should be concise and compelling – remember, people scan quickly.
To find out what style is most acceptable to the media, consult a "Style Book." I have used the "Associated Press Style Manual" since 1981; it's available in most book stores. I also recommend "The Wall Street Journal Guide to Business Style and Usage."
Always include a contact person's name, e-mail address, telephone and/or cell phone number at either the top or the bottom of the press release.
Use a Press Release distribution service. Choose the distribution circuits most appropriate for your news. Business Wire (my personal preference) and PR Newswire are the two main distribution services for press releases. Visit their web sites, see what is being sent out over their wire services, and understand where your press release might fit. They are very reasonable price wise (for example, Business Wire charges for the first 400 words a flat rate based upon your selected distribution circuit, and then a rate for every 100 words over and above 400 words). You will be able to select distribution circuits – by geographic location, by industry or sector, and by specific trade groups or industry groups (i.e. Philadelphia – Health Wire – Advertising, Marketing, Professional Services, Consulting, Senior Citizens, and Software trades). With both, you will get optimal search engine placement, as well as free inclusion of your company logo and links to all appropriate web sites (i.e. corporate web page). Additional fees are involved for inclusion of photos and charts, but in many cases, it is worth the expense.
Avoid issuing a press release exactly on the hour or half-hour – you'll be able to avoid a crowd of competing news.
Business Wire and PR Newswire require that you open an account (or membership) with them prior to sending out a press release through their service. I will use Business Wire as my example, as I am most familiar with them. For my clients, I have set up individual accounts, with a logo on file, a URL for their corporate web site, and a brief background (CEO's name, company address, public or private, number of employees) that can be linked to each press release from that client. Using their Business Wire Connect web site, I am able to upload press releases from my PC to the Business Wire newsroom, and select the distribution channels through a click list on the site. Once the press release is submitted through Business Wire connect, I have a receipt on screen, as well as a receipt that is sent to me via e-mail. Once the press release has cleared the wire (in other words, been sent out to the distribution circuits I've selected) a second e-mail or a phone call follows letting me know what time it went out, and what code number is associated with the release for tracking. Within 24 hours of the press release distribution via Business Wire, I receive a "tracking report" from the company that lets me know who received it, who opened it, who posted it on their web site, etc.
Have your Press Release posted on your web site the day you "release" it! Nothing is worse than a company sending out a press release to the media, driving people to their corporate web site, and that corporate web site is out of date! Establish an "online press room" with current press releases. I recently met with a potential customer who asked me if I knew anything about his company; I said yes, that he hadn't updated his press room on his web site since April 2002. Keep it current!
Be certain that all internal constituencies at your company receive the press release too! Whether it requires posting on an Intranet, sending an internal e-mail to all employees, or tacking it to a bulletin board in the break room, it is always important to keep everybody in the loop. You don't want employees at a company to get calls from someone outside the company about a press release and have them express ignorance.
If you do include employees in the loop, be certain they also know that there is a public relations person at the company who should field all calls from reporters. You do not want the receptionist getting quoted, you want the spokesman for the company to respond or designate the "responder."
Find the media members that cover your industry – whether locally, regionally, nationally or just in a trade publication – and send them a personal e-mail with the press release as an attachment. Let them know who you are, and why you have sent it, and give them a resource if they have further questions.
As an example, let me share the process I recently used for my software client. The software product is intended as a payroll/accounting tool for baby boomers who are hiring and employing household care givers for the elderly (live in nurses, etc.). In one particular instance, I knew that the July 2006 issue of MONEY Magazine featured a cover story on "Your Family's Wealth," and a feature on "Software that Makes Money Simple." One particular story was entitled "When your parents need a hand." I reached out to Penelope Wang, the reporter whose byline appeared on the story, by calling the phone number listed in the MONEY Magazine masthead (listing of staff at the front of the magazine). I then left her a voicemail message that I was sending her a press release about my client, and gave her my contact information. I then e-mailed her the press release, again with my contact information and alluding to the voicemail message. When I called her the next day to follow-up, she was aware of the story, and expressed interest in including my client in a future article.
Refer to these good examples of a press releases recently published by Sydney based Evolve Cleaning, ExpandaBrand & Zjoosh:
Evolve Cleaning Launch New Website
Sydney based Evolve Cleaning is pleased to announce the launch of their new website showcasing the comprehensive range of office and commercial cleaning services they offer. 
Evolve Cleaning have seen the need to stay at the leading edge of technology to keep in touch with their clients and to communicate the array of services as well as special promotions to their website visitors.  
Mr Yaz Evolve, founder of Evolve Cleaning made these comments when asked about the launch of the new website, "We did an in-depth survey of our existing client base to arrive at a website solution which suited the many individual client needs. This was necessary to deliver the most effective customer service portal." He went on to say, "We found that existing clients and website visitors had a broad range of customer interests and are from a wide Sydney region catchment. The website developer needed to take this all into consideration in their design."  
Evolve Cleaning operates across the Sydney metropolitan area and its surrounding regions. The new website design is mobile friendly to meet Google's strict requirements, is robust for ease of customers accessing it on all mobile and tablet devices.  
Mr Evolve said, "We have structured the new website as a one stop resource for business owners wanting information on office and commercial cleaning services in Sydney. There is also a blog of cleaning tips and related advice as a reference resource that will constantly be added to." 
The company has been operation for over 23 years in Sydney and the company is committed to meet client needs both in the services they offer and technology they use. 
They are pleased with feedback already received on how great a 'user experience' it is, from existing and new customers recently visiting the site while it was being beta tested. 
About Evolve Cleaning 
Evolve Cleaning is a Sydney based commercial cleaning company with over 23 years of experience in the office cleaning services Sydney industry.  
They are recognised specialists in the following areas: All types of office, retail, club, factory, leisure, general, commercial, hotel and strata cleaning.  
For more information about Evolve Cleaning, please visit the website here: http://www.evolvecleaning.com.au 
Media Contact: 
Name: Mr Yaz Evolve 
Organization: Evolve Cleaning 
Address: 41 McLaren Street, 
North Sydney, NSW Australia 2060  
Email:  evolvecleaning@hotmail.com  
Phone: 1300 959 441
Zjoosh Expands 'Gifts For Women' Offering 
 Australian based Zjoosh has announced its expanded 'Gifts for Women' offering now available throughout their Sydney and online stores.  
Kellie Rigney, Founder and creative director of Zjoosh said, "The company's product development team is constantly working on creating gifts for all the many different women and girls in our lives. We all understand the importance of expressing gratitude with thoughtfulness and we hope to make this easier for our customers with our expanded 'gifts for women range."  
Zjoosh, offers gift options that suit all the various age groups and personality types, from the fashion lover who enjoys embracing new trends, to the consummate entertainer who loves to make her home warm and welcoming to family and friends.  
Small gestures and grand gestures are available across the many different price brackets, all exquisitely wrapped in beautiful papers and tied with our signature satin ribbons. Zjoosh wants the experiences of both giving and receiving gifts to be truly beautiful.   
One extremely popular gift is the triple scented candle collection from Glasshouse Fragrances that lights up any personal space and elevates the everyday to perfection. 
It is well established that scent can affect mood and productivity. Many fragrances have uplifting capabilities and make an ideal gift that can produce feelings of confidence, optimism and revitalised energy.  
Zjoosh notes that Glasshouse candles are hand-made in Australia in beautiful glass using the highest quality non-toxic food grade wax and natural lead-free cotton wicks. They are just one gift idea in our extensive range of 'Gifts for Women.' 
About Zjoosh 
Zjoosh is a unique Australian lifestyle brand lovingly created by women for women. Zjoosh has eleven store locations in New South Wales Australia, as well as an online store. It is a destination for gifts for women as well as teens, young girls and babies. 
They have a wonderful range of ideas for special occasions such as mother's day gifts, christening gifts, wedding gifts, engagement gifts, anniversary gifts and of course birthday gifts. These range from affordable fashion items including casual and statement jewellery, earrings, silk and cashmere scarves, handbags, clutches, wallets and purses. They also carry an extensive range of clothing including jumpers, pants and skirts, ponchos, kaftans, pyjamas and other sleepwear.   
Zjoosh is well known for their scented candles, including Glass house candles. They also stock a wide range of cushions, ceramics and ornaments, glassware, cutlery, dinner sets and other tableware. You can even purchase furniture including occasional chairs, consoles and bedside tables. Everything purchased can be beautifully gift wrapped to delight that special someone.  
Media Contact  
Kellie Rigney 
Company: Zjoosh 
Address: 36 Punch St, Artarmon NSW Australia 2064 
Phone: +61  (02) 450077466  
Email: kellie@zjoosh.com.au 
Website:  https://www.zjoosh.com.au
ExpandaBrand Confirm Continuing Trend In Effective Event Branding Methods
 Australian based ExpandaBrand confirms in a recent communique the continuing strong trend by corporates to use effective event branding methods.
ExpandaBrand specialises in flags and banners and other textile based promotional devices. These include teardrop feathers, marquees, custom Inflatables and market umbrellas. They are vertically Integrated company, including weaving and coating their own fabrics.  95% of their hardware is also made in-house putting them in a unique position in the industry.
Mr Dylon Bailey, owner of ExpandaBrand said, "Forbes this year published that US Digital marketing spend will near $120 billion by 2021. This forecast has increased over the last few yeras. We are seeing similar increases in corporates currently seeking branding ideas that are non-digital." He went on to say, "Corporates are aware that there are diminishing returns with digital marketing spend as it gets harder to have their message heard in the congested digital space. Businesses are seeing that through launch and activation events they can get exposure in a cost effective way. It is at these types of events that our type of product range excels. The portability means that a space can be 'owned'  by a brand in 10 minutes with one or two people required to set it up. The other element we have noticed is that great photos of these brand activation events are then been used in social media to gain exposure in the digital space. '
ExpandaBrand pride themselves that no order is too small or too big. Servicing a global market they have the capacity to supply large volumes but will give just as much care to the customer wanting only small quantities.
Mr Bailey said, "When done well we know a brand activation promotion alone can be extraordinary effective. We have a complete range of promotional banners and products for an innovative brand or product activation for the most sophisticated of client briefs. We have extensive experience with over the past 15 years of working with leading marketing agencies that we can assist any client with suggestions to assist their objectives."
About ExpandaBrand
ExpandaBrand is an Australian specialist in the manufacture and supply of printed advertisement flags, banners, marquees and other textile based promotional devices, including related hardware. They operate from Australia's two largest cities, Melbourne and Sydney but service all of Australia and internationally.
They have over 15 years' industry experience and have a significant array of leading international corporates as long standing clients.
To learn more about the company and its range of innovative promotional flags, banners and marquees list the website here: http://expandabrand.com.au/
Media Contact
Dylon Bailey
p: 1300 850 571 | i: +61 2 9438 6100 | f: 1300 760 654 
e: dylon@expandabrand.com.au | 
a: Unit 3, 8 Tilley Lane, Frenchs Forest NSW 2086